THE BALANCED RUNNER: HOLISTIC MARATHON TRAINING TIPS
May 26, 2021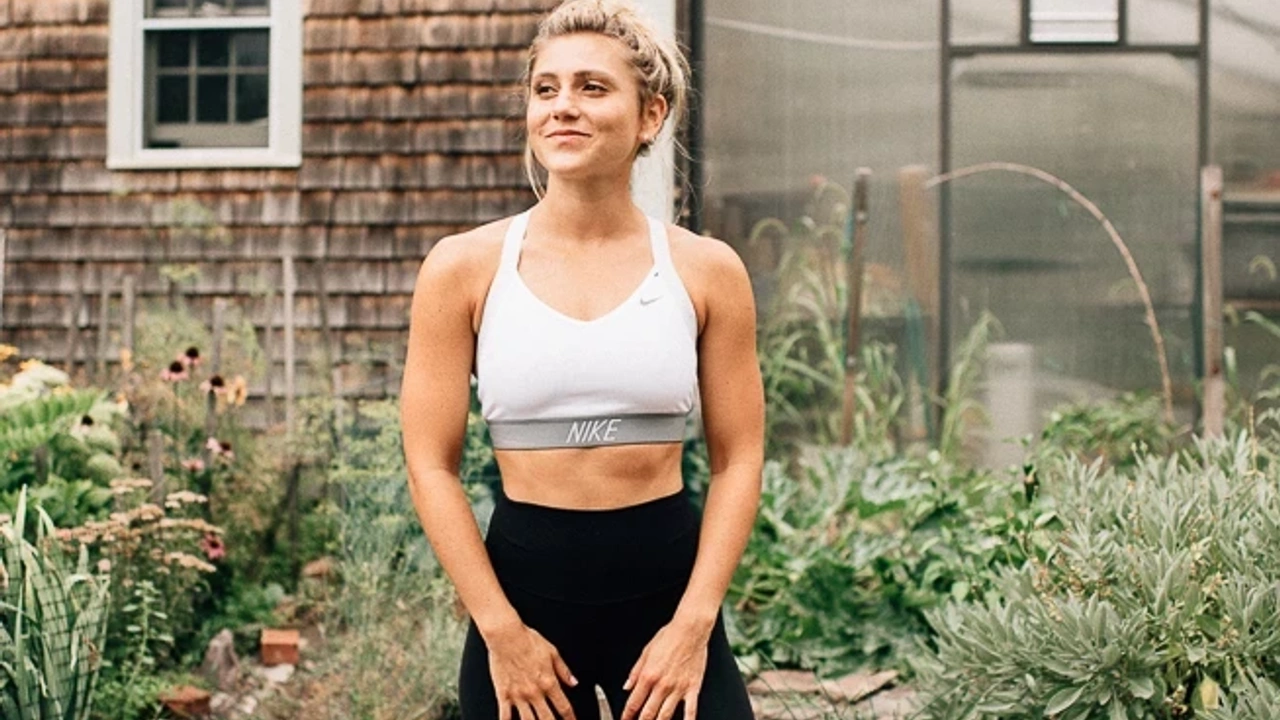 Balanced Beyar's Holistic Tips for Taking Care of Your Mind, Body and Spirit During Marathon Training
[Written in 2018]
"I am never running another marathon EVER AGAIN", I said to Julie as we stumbled across the finish line in agonizing pain and discomfort. My first experience training for the marathon was in October 2016. I carbo-loaded endlessly and ate like crap. I didn't strength train. I didn't stretch, warm up, cool down, or recover properly. I went to bed too late and I ran for too long and too hard.
I was a BURNT OUT hormonal mess and it made me lose my passion for running.
Fast forward to today, I signed up for the 2018 Marine Corps Marathon on October 28th to help raise money for the Grassroots Soccer Organization...and I am actually excited about it because this time it's different. I am different.
Ever since I became a health coach last year, my entire mindset and perspective about my health has shifted. I know and understand the importance of whole food as fuel. I treat my body with respect and to listen to it. It's always communicating with me. I take time to recover, roll out and take DAYS OFF when I am hurting.
I now live a holistic lifestyle; looking and considering all aspects of my life as parts of an engine..and they all need to be working in tandem for me to feel the best that I can! I thought I would share holistic tips that I have found to be extremely helpful while marathon training.
Because to be honest, it's not just about your workouts or your runs. It's about how and what you think, what you eat, how much you sleep, how supported you feel and much much more!
My holistic marathon training tips are here to help you work in partnership with your body as you train for your big 26.2 miles. Good luck to those of you who are training this marathon season! You are going to crush it!
FITNESS NUTRITION; GIVE YOUR BODY WHOLE FOODS FOR RECOVERY AND PERFORMANCE
ORGANIC PASTURE-RAISED EGGS

- complete protein, high in omega-3s

[which is great for battling inflammation]

SWEET POTATOES

- starchy carbs and glucose, great for energy. Manganese and copper present in sweet potatoes help with muscle function.

[I personally prefer this over pasta because sweet potatoes make me feel so good! Pasta makes me feel groggy, cranky and tired]

BEETS - high in nitrate, increases oxygen uptake

[which you need during your runs]

CHERRIES - anti-inflammatory

[great for post workout]

ORANGES - high in Vitamin C which helps lessen muscle soreness [AMEN TO THAT]
KALE - high in antioxidants

[great for recovering from oxidative stress]

CHIA SEEDS - hold onto water which helps prolong hydration!
SALMON - omega-3s

[anti-inflammatory]

and selenium present in salmon is incredible for cardiovascular health

HEMP - complete protein, great for immune system and contains essential amino acids to repair and rebuild body after a long run
DITCH THE ENERGY GELS, FOCUS ON WHOLE FOOD SOURCES OF ENERGY.
DATES

- Incredibly easy to bring on the go. Low glycemic index so it does not spike your blood sugar and leave you tired on the run! Side note: Check out our incredible

homemade date balls.

HONEY PACKETS

- I use

Wedderspoon Honey to-go packets

- great source of carbs and fuel during your run. It also gives slow and steady release of glucose into your blood which in turn gives you a steady source of energy. It spares your muscle glycogen and keeps your fatigue at bay.

MAKE YOUR OWN ENERGY CHEWS

- People commonly use store-bought energy chews that are packed with processed sugars and fake additives

[which also can cause IBS symptoms on your run]

. If your body does not react well with energy gels, opt for a healthier version - make your own!

HOMEMADE ENERGY GELS

1/3 cup Coconut oil
Strawberries 5-10
2 tbsp of Raw Honey

Gummy bear molds

[you can get them on Amazon]
Heat ingredients in pan until fruit become mushy

Keep mixing [the gelatin will stick to pan]

Pour into gummy bear molds

Should be ready in 10 minutes!
SAY BYE-BYE TO ENERGY DRINKS AND PROCESSED PRE-WORKOUTS, FOCUS ON THE REAL STUFF.
COFFEE-

Caffeine is a great natural pre workout! It also has been shown to enhance athletes performance. However, this all depends on how you metabolize caffeine! Steer clear of coffee if you experience increased heart rate, anxiety, jitteriness and IBS symptoms!

CORDYCEPS [MUSHROOMS] -

Cordyceps is a medicinal mushroom used in Chinese Traditional medicine. There have been various studies that prove that the consumption of cordyceps

improved circulatory and metabolic effects in endurance-conditioned athletes

. It also helped prolong exercise and resistance to fatigue. I personally use

Four Sigmatic Cordyceps tea

from time to time [From Thrive Market - I save so much money shopping on

here

].

WATER WITH SEA SALT - Obviously water is great for hydration, duh. However, have you ever added himalayan sea salt into your water? This provides trace minerals and nutrients to your body. It also holds more water within your body, keeping you from becoming dehydrated too quickly. We love Redmond's Real Salt!
COCONUT WATER - This natural and delicious energy drink alternative is extremely hydrating and replenishes your electrolytes!

[I highly suggest using it as your base in your recovery smoothies]
BIGGEST TAKEAWAY:
What you put in your body is extremely crucial to your performance. Secondly, when you are running for long periods of time, you put your body into a stressful state. This can not only negatively impact your immune system, leaving you susceptible to getting sick but it also can run down your muscles. Make sure that you are consuming complete-proteins to maintain lean muscle mass and anti-inflammatory/immune boosting foods to keep you feeling your best during your training!
COMMUNITY: GAIN MOTIVATION AND FEEL STRENGTH IN NUMBERS; FEEL A PART OF SOMETHING BIGGER THAN YOURSELF
GROUP TEXTS - Put a group text together with friends who are training! This is a great way to stay in touch and hold each other accountable. It is also fun to share tips and tricks with one another.
LOCAL RUNNING CLUBS - Join local running clubs to stay on track with your training and meet new friends. I have not personally used this but I know people who joined a

NIKE RUNNING CLUB

near them!

FACEBOOK GROUPS

- Find and engage in OPEN Facebook groups! All you have to do is hit the search bar and type in "Marathon Training" groups. You can find your local groups and chat with community members

[It's not weird - everyone is very willing to connect and support you]
TAKE CARE OF YOUR BODY AND YOUR BODY WILL TAKE CARE OF YOU
LISTEN TO YOUR BODY - Be intuitive and take days off of running if you do not feel well. Trust me on this. I have only been running 3-4x a week [as opposed to 6x a week] because I have been listening to how my body is recovering. If I have a tweaked ankle, I will rest until I feel confident that I am better. I trust in the process and know that some days off will not affect my training. In fact, I've noticed that my times are faster!
SLEEP -

This is a nonnegotiable! Lack of sleep increases your cortisol levels [stress hormone] which can

cause a decrease production of glycogen and carbs that are stored for energy during exercise

. This lack of sleep affects your energy levels, focus and recovery. AKA - If you don't get adequate sleep, your performance can be compromised. Set a bedtime for yourself and aim for 8 hours!

FOAM ROLL - Buy a foam roller and make it your best friend. This myofascial release is perfect to getting out knots. Foam rolling also helps you correct weaknesses and muscle imbalances - perfect for those training for marathons!
BALL- We barely give our feet any lovin' and they are the ones carrying us through those 26.2 miles! I need to get better at this as well. Buy a ball [or use lacrosse or tennis ball] and massage the bottom of your feet. This is incredible for tight hamstrings [because don't forget, our entire bodies are a web of connective tissue. A release in one area may trigger a release elsewhere]
YOGA - You can choose a YIN YOGA which would be a great recovery day workout. Or you can choose a VINYASA HOT YOGA which would be great for a cross-training workout! Perfect for runners, you would be focusing on core, balance work, strength training, breath control and mental focus. If you do not belong to a gym, I highly suggest downloading the app ClassPass. I pay $15 a month for a certain amount of credits and I generally use them to get my hot yoga on 1x a week!
MINDSET: YOUR MIND CAN MAKE OR BREAK YOUR PERFORMANCE; TRAIN IT
.
HEADSPACE MEDITATION FOR SPORT- I have been taking 10 minutes to meditate after each long run or workout. This app contains a RECOVERY PACK for athletes and it is incredible! The instructors voice is so soothing and it is a great way to transition your body from "flight or flight" mode to your "rest and digest" mode.
JOURNALING/SET GOALS - If you do not journal, I highly suggest it. It is a great way to let out negative energy and mindsets. It is also a great tool for setting goals. When goals are written down, you are 42% more likely to accomplish them. So what was your goal marathon time again? Write it down.
COACHING: IT'S AMAZING HOW FAR YOU ARE WILLING TO GO WHEN SOMEONE BELIEVES IN YOU
HIRE A RUNNING COACH- I work with an online running coach and friend, Sam Tooley. He customized my weekly running plan on an excel sheet that I have to update and fill out every single day. It not only gives me peace of mind knowing what workouts to do every week, but it also held me accountable. I highly suggest hiring an accountability coach to keep you on track. I know how easy it is to say "ehhh I don't feel like getting up and running" but when you have someone who is counting on you, you don't want to let them down. Coach Sam also gives me check-in texts and genuinely cares about my progress. I highly suggest checking out his running programs here. Also, if you are ever in need of inspiration - follow him on Instagram.
STRAVA OR NIKE RUNNING APP - Using an app can be a great resource to stay on track. I personally love "STRAVA" [shout out to Coach Sam for telling me about it]. The app is free and very easy to use. It has voice cues for split pace, mile times and a satellite map. There is also a community aspect where my workouts upload to my feed and people comment or like to inspire me to continue moving forward!
---
DISCLAIMER
: I am a certified IIN Holistic Health Coach specializing in Hormone Health and Fitness Nutrition. I am also a NASM Certified Personal Trainer in training. I am sharing tips based off of my personal experience and within the parameters of my credited knowledge. I am not a doctor, so if you are unsure, please consult your physician first before trying any of these tips. If you have any questions, please do not hesitate to email me at
[email protected]
.
DOWNLOAD OUR FREE 3-DAY HORMONE RESET
If you're feeling "hormonal" right about now, it sounds like you need to support and nourish your body! Download our FREE 3-day Hormone Reset Challenge to get back on track and kiss those symptoms goodbye.
*Over 1,000 downloads! Don't miss out on this free way to support your health!
We hate SPAM. We will never sell your information, for any reason.